Najeeb Hameen
(Project Management)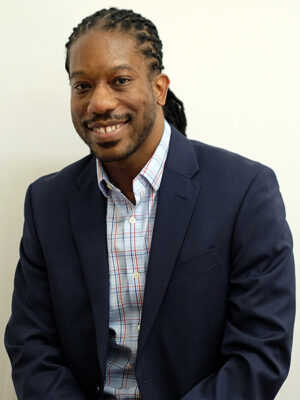 Najeeb Hameen, a native of New York City is a valued member of ImbuTec's Project Management team. His work experience bridges the fields of Design, Architecture and Construction for us. Najeeb's project history represents multiple disciplines including Government, Commercial, Corporate interiors/Workplace, Residential, Retail Banking, Luxury Retail and Broadcast Media.
With over 20 years of experience, he has served as Architectural Designer and Project Manager for several Architectural firms in New York and Pittsburgh.
He received his Bachelor of Architecture from Howard University, Washington, DC.
With an ongoing dedication to service and professional excellence, Najeeb has been active within the National Organization of Minority Architects (NOMA) spanning over 15 years having served on the national executive board as Parliamentarian (served three consecutive terms) and through local chapter participation with the New York Coalition of Black Architects (NYCOBA-NOMA) executive board as Recording Secretary, Parliamentarian and a member of the Conference Planning Committee for the 2002 and 2019 Annual NOMA Conference both held in NYC, as well as a member of the local NOMA Pittsburgh chapter. Najeeb was National Parliamentarian at the time of the creation of the NOMA Pittsburgh chapter in 2014.
On a more personal note, Najeeb is the son of a master jazz musician (drummer) and music educator father, and former filmmaker and retired schoolteacher mother. His upbringing in creative fields has taken him through the arts into Architecture, Design and Construction. His exposure to music, film and other expressive fields has greatly influenced and informed his work, as can be seen by the broad reach of his completed project types.