Mass Notification Systems
B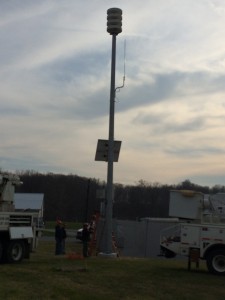 ase security and emergency communication is a top priority for United States military installations world-wide. To support this critical objective, defense planners and Base commanders are continuously implementing new technology and security measures to protect our nation's installations, and the soldiers and civilians that live and work there.  Military bases across the globe have found that installing Mass Notification Systems provide an effective tool to facilitate communication with Base personnel and inhabitants in the event of an emergency situation.  ImbuTec works closely with the preeminent manufacturer of Mass Notification Systems, and has successfully installed them at several installations.
Stratton Air National Guard-109th Airlift Wing
Gabreski Air National Guard-106th Rescue Wing
Delaware Air National Guard-166th Airlift Wing                                                  
Pennsylvania Air National Guard- 193rd  Special Operations Mission Support Group
Idaho Air National Guard-124th Communications Flight
Puerto Rico Air National Guard-156th Air Wing
Utah Air National Guard-151st Air Refueling Wing
For additional information on our Mass Notification Projects, please visit Past Performances.